Inventors First Prototype
Prescription bottle and
clothes pin modified to
roll-up a toothpaste tube.
My name is Ray Liberatore an inventor and entrepreneur for over 20 years.
In 1989, I said to myself, if I can come up with and idea that everyone can use everyday, I would be rich. I had no idea what I was getting into. I thought toothpaste tubes was that product because I thought there had to be a better way of getting toothpaste out of tubes. After looking in stores and around the house for things that I could use for a prototype, I finally found it. I took a prescription bottle and cut a slot in the side of it and put a clothes pin through the cap and the bottom of the prescription bottle. I was so excited when I was able to put the used part of the tube in the slot & clothes pin and be able to roll-up the used portion of the tube.
At this point , I was weighing my what ifs. My wife said, " I've seen things like this before", we'll I was stubborn and knew I had something better. I had no idea what was in store for me. At the time I owned a construction company and I knew that moving this project forward was going to be a full time job. I decided to sell my company to a friend so I could go after this full time.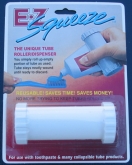 First Ez-Squeeze Product
I had no knowledge about patents, trademarks, packaging, mold, graphics, merchandising, marketing and selling. The only thing I knew at the time was the construction business and selling myself in that industry. In about 6 months time, I had a final product. I had a company make a mold and they used plastic mold injection machines to produce the part. I had several companies make labels, blister cards, cardboard cartons and blisters. I started out heat sealing the packaging out of my garage . Eventually I had a packaging company do this for me.
I was trying to sell everywhere and it got real frustrating. I sold 55,000 pieces to Israel and 1 order from the biggest retailer at the time. I sold to small stores and I found it real difficult to sell a product as a 1 item vendor. I didn't make enough money to do this full time and you guessed right, I had to go back into the construction industry to support my wife and kids. I was frustrated and knew that my product was a low cost item and I would have to sell millions to make it pay off.
I continued to market Ez-Squeeze in my spare time. I fell on my face so many times by getting so many rejections, mainly because of being an one item vendor. I made so many learning mistakes since I invented this product. I had no idea it would be so difficult. If I had known, would I still do it? Yes, I probably would because it kept me on my toes and it was a challenge and I like challenges. After 6 years of frustrations and being depressed with Ez-Squeeze, I knew in my heart that there had to be a reason I spent so much money, time and had so much failure and heart ache with Ez-Squeeze.
During this stage is when I invented the permanent Ez-Squeeze Tube, ( The Most Convenient Tube in The World). I figured that I would try to make a tube convenient instead of selling a dispenser that goes on a tube. This tube has a built-in dispenser that is attached permanently to the crimped end of the tube. This dispenser rolls-up all the used portion of the tube as you use the product. It's like squeezing a brand new tube all the way until it's empty.
| | |
| --- | --- |
| Ez-Squeeze Toothpaste Tube | 1/2 used Ez-Squeeze Toothpaste Tube. |
I decided to call caulking companies and try to set up meetings with them. I found out there was going to be a tradeshow in Chicago in a couple weeks. I set up meetings for the first day of the tradeshow with all major caulking companies. The first meeting was with Red Devil, Inc. and I spent 4 hours in that meeting. They didn't want me leaving until I signed a contract with them. We'll I knew I worked a long time without pay, so I was going to try to make the best deal I could. I did make a deal that day and I was happy that Red Devil, Inc. wanted to bring a convenient caulking tube to their customers and was willing to innovate their product line.

Ez-Squeeze Caulking Tube


I spent the next 2 years pitching the Ez-Squeeze caulking tube at tradeshows for Red Devil, Inc. I continued to try to change the tube industry. What kept me going? At Red Devil tradeshows, they won awards for best packaging for the Ez-Squeeze caulking tube and I must have shown the Ez-Squeeze caulking tube to 50,000 people over a 2 year period. I would say majority of them said, "we need this on toothpaste tubes". This continued to inspire me to keep going. I continued to develop more patents on the Ez-Squeeze tube because I knew I was a small guy and I didn't want the big toothpaste companies going around my patents and all my hard work.

One thing I learned about myself was I knew I would never give up on this quest into to making tubes convenient. I needed to keep my mind busy so I invented another product. It's a sporting good product called Swing Sock for golf, baseball, softball, tennis, racquetball and squash. For more information visit www.swingsock.com.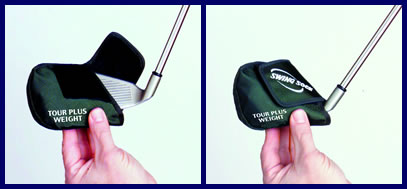 Swing Sock Golf Weight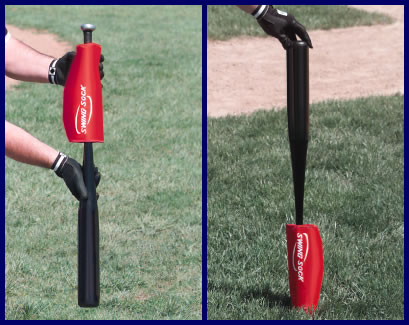 Swing Sock Bat Weight
While working with Swing Sock, I still never gave up with changing the tube industry, but by keeping busy and working on other things, it helped me to regroup and go after again.
After showing the Ez-Squeeze tube to buyers and they said they would buy it, if a major toothpaste company would present a new toothpaste product with the Ez-Squeeze tube. We'll after hearing this, it gave me more drive to push harder.
I decided to make some changes to my first version that I came out with and bring this new version to the market. This new version has a new smaller look and has a better knob, so it's easier to turn for everyone. You might have already seen this version and if you haven't then go to the product section of this website.
We'll I learned a lot the past years and I guarantee I will not make the same mistakes twice or at least try not to. Today, I'm currently working with Swing Sock and selling the reusable toothpaste dispenser, inventing and marketing new items.
I will never give up in marketing to tube companies because consumers deserve a convenient tube. You deserve better and this is what I'm fighting for.
From My Heart: Some would say I have a passion for tubes. If I didn't see majority of toothpaste coming in tubes then I would not pursue as much. Since majority of toothpaste is sold in tubes, and it's been this way for some time and will not change for a long time unless we convince the manufacturers that we want a convenient tube. This is why I'm not giving up, because if there is the best tube in the world available, then consumers deserve it.
To be honest with you, I just believe in my heart that someday I will help change tubes to make them more convenient for consumers. A story I heard recently about the guy who invented the automobile airbag. I guess this inventor pursued for 20 years before he started to change the automobile industry. Now look today almost every car has an airbag in the car. When I hear stories like this, I can tell you this keeps me going and makes me not quit. I'm not doing this to be rich like I said years ago. If money comes from my efforts that would be great, but my philosophy has changed over the years, it has become more of a mission and purpose. If I give up then what? I couldn't live everyday knowing that I stopped instead of persevering.
Here are some more reasons why I'm not giving up. Consumers having been using the same toothpaste tubes and other tubes for all these years. Many years ago when toothpaste companies gave us an aluminum tube, they stayed rolled up, but when they changed to the current laminate tube, consumers had to figure out how to get the product out. There are many techniques used by billions of people around the world. When consumers buy toothpaste tubes, they don't think about how much a pain it is to get the product out because they are so used to using the same techniques they have been using for all these years. Consumers had no choice and they don't complain to companies because they don't know that there is anything better until now.
Consumers unconsciously squeeze toothpaste out of tubes and some think it's a big problem, some a medium problem, some it's a small problem and others it doesn't bother them at all. If you tried the Ez-Squeeze tube, you would see it saves you money by getting more product out that you pay for. It saves you time and it's more convenient squeezing a brand new tube all the way until it's empty instead of regular squeeze tubes. Once you use the Ez-Squeeze tube you will not want to go back to regular squeeze tubes again.
I have learned from some companies that they don't think consumers are willing to pay for convenience. This web site has generated thousands of survey comments proving the customer will pay for
If you look in your stores where you buy toothpaste, you will see that around 90% of toothpaste comes in tubes. Reason is consumers prefer the tube because it's more of a value than pumps and they are so used to buying tubes. Buying habits and using habits are hard to change, so tubes will be around a long time and this is another reason I don't give up.
A main reason that keeps me going is, I think with innovation everywhere in automobiles, electronics etc., so is toothpaste tubes going to be the same for the next 50 years? If toothpaste tubes are the #1 package sold, then consumers deserve to have the best and most convenient tube available! Even if it's going to change the assembly lines or allow consumers to get more product out.
This story is not over and I will continue my efforts to try change tubes and make them more convenient for consumers. I have realized that I can't do it with out YOU. Please join and help me let companies know how you feel about toothpaste tubes and other tubes. They will not listen to me by myself but they will listen to you.