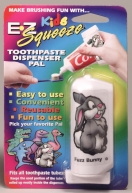 It is a brand name for our products that makes collapsible tubes convenient.

There are many types of collapsible tubes in the world, some of the products are easy to come out, and some require more effort. Thick products like toothpaste, caulking, diaper ointment, frosting, etc. require more effort and work to get the product out. Many of us don't think about this problem anymore because we are so used to it. Some of us throw away the product when it gets low, because it's not worth the effort.

Innovation is everywhere, but we continue to see the same squeeze tube with the same dilema of getting the thicker products out of these tubes.

Our mission is quite simple, "Help Make Collapsible Tubes Convenient". We cannot do this without you helping spread the word and letting toothpaste companies know you would like a convenient toothpaste tube.
---
EZ-SQUEEZE ® is the registered trademark name for dispensers that are reusable or permanant and used with collapsible tubes.
Reusable EZ-SQUEEZE ® Dispenser
This dispenser is designed to be Resuable, to use over and over again. This dispenser rolls up all the used portion of the tube neatly inside the dispenser every time you squeeze. It's like squeezing a brand new tube! Can be used with many collapsible tubes.

---
Permanent Ez-Squeeze ® Dispenser
This dispenser is permanently attached to tubes. It works the same way as the reusable dispenser except it's permanent and cannot be used with other tubes.


Ez-Squeeze Toothpaste Tube


1/2 used Ez-Squeeze Toothpaste Tube. It's amazing the 1/2 used Ez-Squeeze Toothpaste Tube still remains full. It's like squeezing a brand new tube all the way until it's empty!


Ez-Squeeze Caulking Tube
Companies with collapsible tubes
If you would like more information on how to license this technology from us, please click here.